Updated: Feb 12, 2020
Welcome to v7.11.0, the 20B release of Bixby Developer Studio. This release introduces a new tab for Release Notes in the editor, improvements to Simulator and Stories, and several bug fixes.
Release Notes Tab
We've introduced a Release Notes tab in the editor. The links to the release notes can be found in the Welcome tab.
The release notes tab will automatically open when you start Bixby Developer Studio with a new version, unless it is a fresh install.
Simulator and Stories
The Simulator now tracks deleted steps.
Until now, you could not use the Export Story button in the Simulator to export deleted steps. As a result, you couldn't create stories that involve transactions. Now you can export stories, and every step is included in the story, even those that are deleted during the process.
Example for Deleted Steps
Here's what the new export story flow looks like when you use the shirt sample capsule to select a shirt, select a size, and buy the shirt: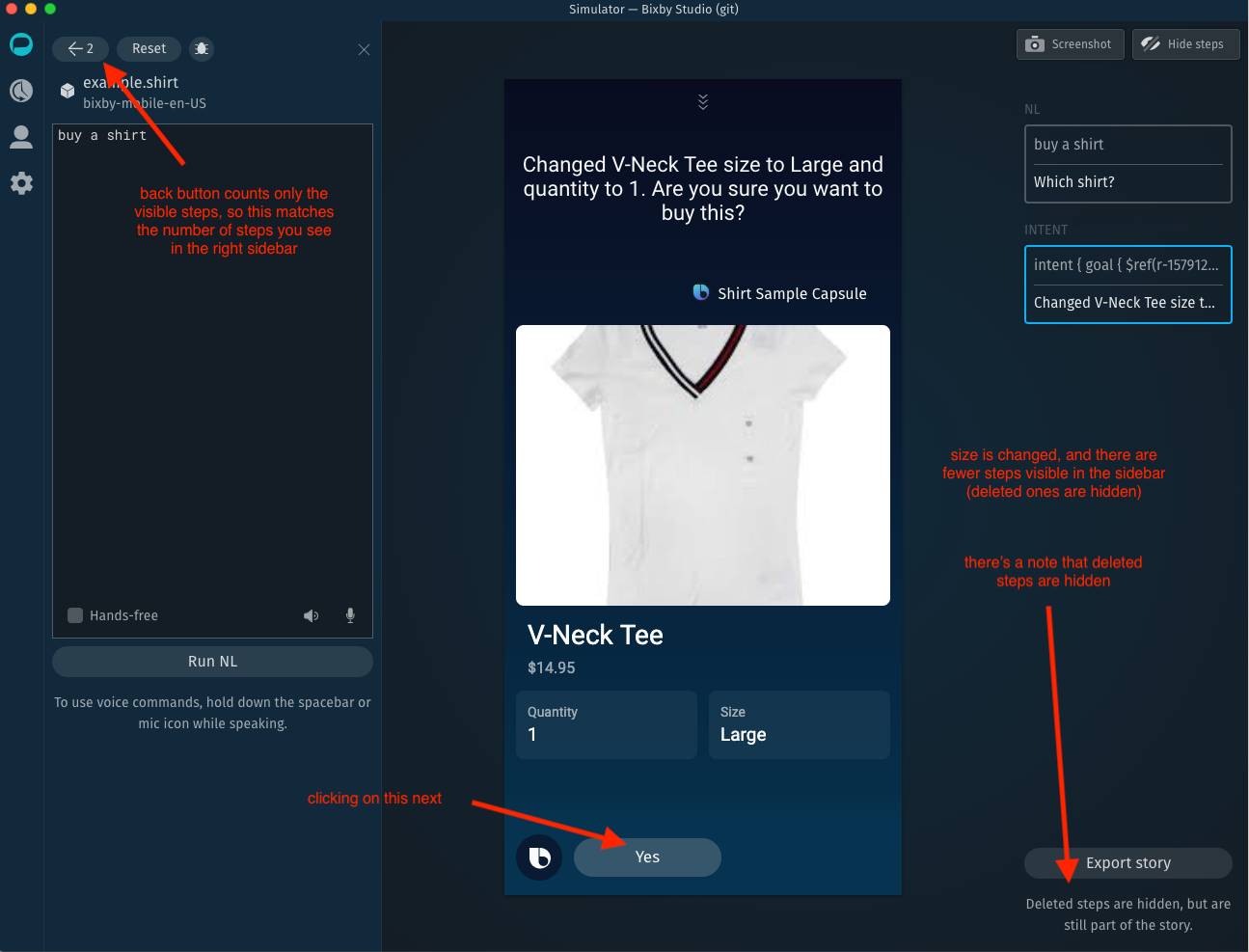 General
Keyboard Shortcuts
We've updated the keyboard shortcuts to toggle the sidebar and the panel.
File Renaming Improved
Renaming a file now targets the filename instead of the filename and the extension:
Image Preview Tab Now Shows Metadata
The Image Preview Tab Pane now shows additional file metadata:
Expandable Directories in Explorer
Special directories (Stories and Training) are now expandable in the Explorer:
Focused vs. Unfocused Window States
Bug Fixes
General

[VIDE-4601] Fix editor losing changes in Auto Save mode (Windows only)
[VIDE-4127] Fix incorrect app menu showing when switching apps windows (macOS only)
[VIDE-4553] Fix unsaved files contents not persisting after restarting IDE
[VIDE-4483] In an Image Preview tab pane, fix incorrect image ratio when resizing IDE window
[VIDE-4423] Fix auto indent for bxb files
[VIDE-4506] Fix different case highlighting bug
[VIDE-4525] Fix Template buttons being pushed off the screen

Training

[VIDE-4507] Cannot add training folder when capsule target did not have a region

Stories

[VIDE-3907] Story step HTTP cache info does not show up until you re-open tab
[VIDE-4425] Editing assertions.yaml file does not always update Story

Submissions

[VIDE-4521] Fix scroll missing on submission logs [VIDE-4563] Before a capsule is finished compiling, it can be selected for submission even if it has errors (#2242)

Debug Console

[VIDE-4582] Fix missing debug console tabs (#2244)